Our training methods are always positive reinforcement, to shape a positive behavior. We feel that punitive methods tend to weaken the bonding process that is fundamental to the dog/trainer relationship. Praise, food and clickers are used. It must be fun for both dog and trainer or no real learning takes place.
---
Our Classes
Our 8 week classes start you and your dog on the way to a lifetime partnership. Most classes meet for 1 hour each week during the 8 week sessions. New sessions starting all the time, year round.
Let's start with the Basics - Level 1:
Now you're focused, let's get serious:
---
LESSONS: Small classes of generally 15 students or less. We have a ratio of 1 instructor to 3 students for any given class!
PRIVATE LESSONS: Affordable one on one training.
FAMILY PRIVATE LESSONS: For all family members, who actively interact with the dog. Our goal is to get all individuals using the same commands so as not to confuse the dog. Also, it helps kids and dogs to respect each other.
SEMI-PRIVATE LESSONS: 2 to 6 teams of about the same skill level. Form your own small classes.
SEMINARS: Several seminars on Dog Related Topics are also planned.
SWIMMING PAWS: Swimming Paws is available in the K9 pool. All dogs will be given a swim evaluation prior to starting any swim program. Good for your companion and great fun too!



Our own Ruby-Do, owned by Carrie has a starring roll in this article, click on the title and read more...Ruby-do, the German Pinscher, has been learning tricks since she was only 12 weeks old. Her owner, Carrie Eicher, says, "It is such a positive beginning to teach a dog how to learn and how to be part of the team."


"Our mission at Peak Performance Canine Rehabilitation and Agility is to combine two unique, specialized services to you and your best friend. We strive to raise the bar on your dog's performance by providing reliable and reputable rehabilitation services for maintaining the strength and fitness of your canine partner, the qualified expertise necessary if your dog is recovering from an injury, and/or professional agility training for you and your dog."

Congratulations to Carrie, receiving the Certified Professional Dog Trainer - Knowledge Assessed!

The Indoor Area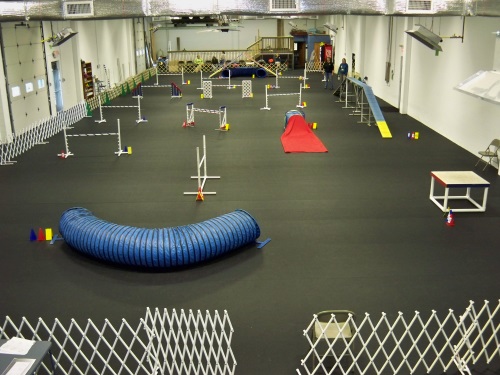 We believe that our facilities are the best in the tri-state area. The indoor facility is fully matted with state of the art shock absorbing non-slip rubber flooring The training center is 10,000 square feet, well lighted, heated and air conditioned.

The "Academy Club" provides:
Indoor all weather training facility
Agility and Obedience Equipment on premises
24/7 facility access
The Academy Club offers handlers and their dogs a place to practice. It is set up for advanced obedience and agility handlers and their dogs. You must have completed an advanced obedience class and at least a beginners agility class at the Academy. Click Here to sign up for a Club Membership with our online Class / Club Registration to submit for approval.
Our store, open when there are classes, provides show and competition dog equipment and supplies.
Some of our specialty items include:
Training Books
Dog Seat Belts
Collars and Leads for Performance Dogs
Motivational Dog Games and Toys
And Delicious Dog Treats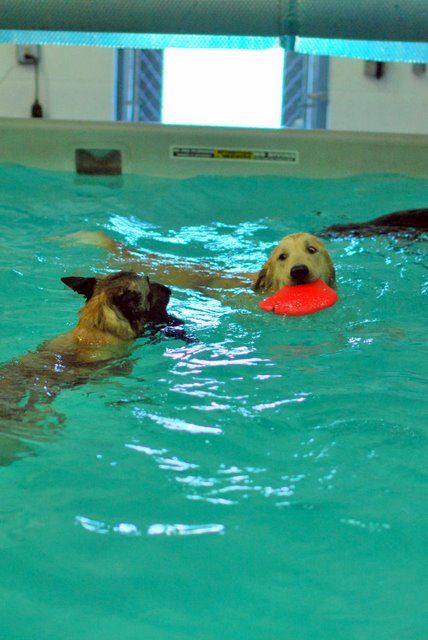 Due to the OVERWHELMING Positive Response we can only offer you a spot on the waitlist. The waitlist has grown to 3-4 months. The only way to get on the waitlist is to fill out a Swimming Evaluation online (click here to begin). We will not be taking a payment from you until the service is rendered. We have only 4 evaluation/lesson slots available per week. The rest of our slots are filled with existing clientele of independent swimmers. When a spot becomes available, you will first be contacted through email and then by phone. Thank you for your interest and support.
The purpose of the "Swimming Paws" Swim Center is to provide a state of the art year round swimming facility for our dogs. The pool is 25' x 15', it is solar heated (with back up heat when there is no sun). The decking and stairs are safe slip proof materials. "Swimming Paws" provides scheduled evaluation of your dog's water abilities, swimming lessons if needed, and swim time.

It is located within the Academy of Dog Training & Agility at 89B Albe Drive, Newark, DE 19702.

Please go to "SWIMMING PAWS" to find out all about this new service for your dogs.