The Academy of Dog Training & Agility in Newark, Delaware
Our Philosophy
The Academy of Dog Training and Agility is dedicated to the belief that both dog and handler can be improved in well being, mentally and physically by training together.
"8 Weeks of training is better than 8 Years of wishing you had."
Our training methods are always positive reinforcement, to shape a positive behavior. We feel that punitive methods tend to weaken the bonding process that is fundamental to the dog/trainer relationship. Praise, food and clickers are used. It must be fun for both dog and trainer or no real learning takes place.

As a team develops the bonding process is advanced. As mutual respect increases, mental stress is reduced. As the team progresses from performance wishes and dreams to expectation, the bond is completed. Expectation turns into measurable performance.
The Latest News at the Academy
Our next session of classes begins the week of

September 17th, 2018

Puppy Head Start

(8 Weeks): Starts

July 27th and September 21st @ 7pm and August 24th at 6pm

Canine Good Citizen (4 Weeks) : Starts July 7th at 10:30 am

Fun with Recalls (4 Weeks) : Starts July 7th @ 12:00 pm

Sunday, August 12, 2018 at 1:30 pm

Asking for $5 donation at the door, to benefit

House of Hope Animal Rescue

Click here to learn more!

BOGO Special in Show Handling


Come with your dog and bring a friend with their dog

in the same class and it's only $12 for both!

Show Handling/Conformation Class is held every Tuesday @ 8 pm

and is normally $12.00 per class. You can even bring more

than one dog. Work the first dog for 1/2 of the class,

then work the second dog during the second 1/2 of class.

Canine Rehabilitation to be Offered at the Academy!


Greg Paul will be offering his services monthly on Wednesday from 2:00PM TILL 9:00PM, starting on April 13th.

Please call Carrie, (302) 588-7665, to Schedule a time. He offers massage, acupressure, chiropractic and laser to help your dog.

About Greg Paul, DVM,RVT,CCRP: His specialty is in both canine and equine gait analysis. He has made it his goal to promote sports fitness in performance dogs and to educate his clients to help prevent sports-related injuries. Besides having his DVM, he is also a registered veterinary technician in Maryland. He was certified as a Canine Rehabilitation Practitioner from the University of Tennessee School of Veterinary Medicine, completing an externship with Dr. Debra Canapp at the well-known and respected VOSM (Veterinary Orthopedic and Sports Medicine) in Annapolis Junction, Md. More information at : www.k9sportsfitness.com

CGC is a certification program that is designed to reward dogs who have good manners at home and in the community. The Canine Good Citizen Program is a two-part program that stresses responsible pet ownership for owners and basic good manners for dogs. All dogs who pass the 10-step CGC test may receive a certificate from the American Kennel Club.

ADVANCED CANINE GOOD CITIZEN - Click Here to View the Class Schedule

This class will be held at the Academy and various local parks. Parks are within 15 miles of the Academy will be announced on first day of class. Prerequisite must have CGC certificate first. Five classes including test $110.00. Also includes CGCA patch for those that take class and pass the test.

Congratulations to Carrie, receiving the Certified Professional Dog Trainer - Knowledge Assessed!

Our Classes
Our 8 week classes start you and your dog on the way to a lifetime partnership. Most classes meet for 1 hour each week during the 8 week sessions. New sessions starting all the time, year round.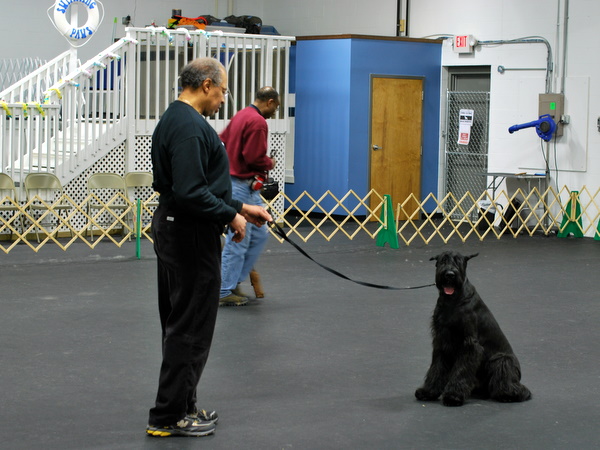 Agility
Private Lessons: Affordable one on one training, available in groups of 4 lessons to help you get that team going!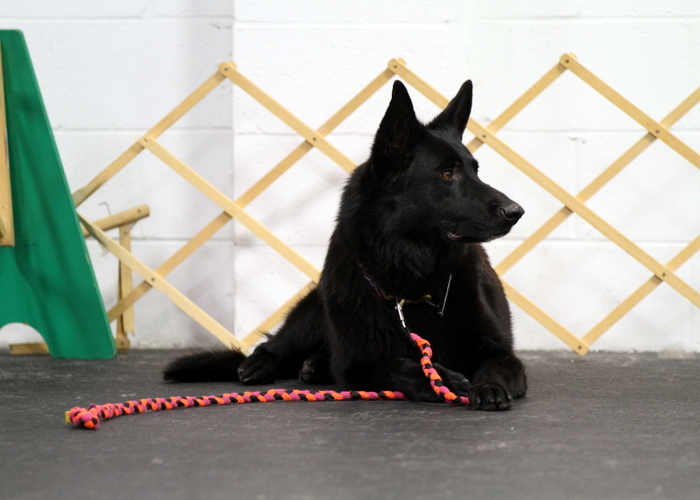 LESSONS: Small classes of generally 12 students or less.
PRIVATE LESSONS: Affordable one on one training.
FAMILY PRIVATE LESSONS: For all family members, who actively interact with the dog. Our goal is to get all individuals using the same commands so as not to confuse the dog. Also, it helps kids and dogs to respect each other.
SEMI-PRIVATE LESSONS: 2 to 6 teams of about the same skill level. Form your own small classes.
SEMINARS: Several seminars on Dog Related Topics are also planned.
SWIMMING PAWS: Swimming Paws is available in the K9 pool. All dogs will be given a swim evaluation prior to starting any swim program. Good for your companion and great fun too!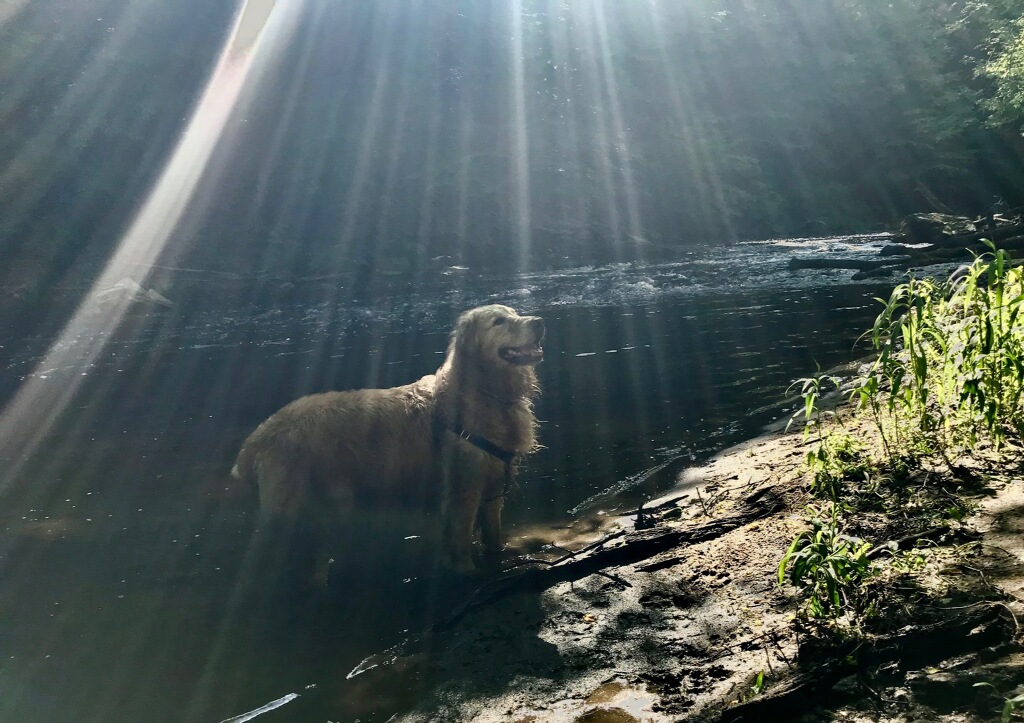 The Indoor Area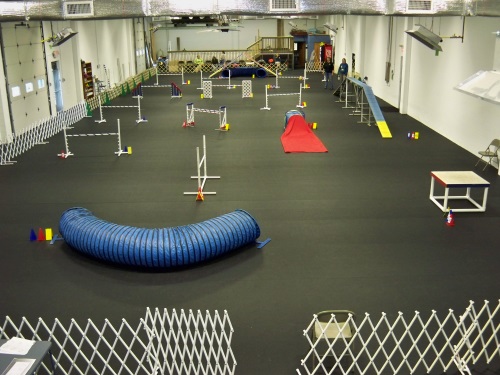 We believe that our facilities are the best in the tri-state area. The indoor facility is fully matted with state of the art shock absorbing non-slip rubber flooring The training center is 10,000 square feet, well lighted, heated and air conditioned.

Advanced Rally Obedience and Agility students meet at our outdoor location when the weather permits. This location is close by the indoor facility. The outdoor location is well lighted and fenced. This 15,000 square foot paddock allows for full agility ring training for practice runs on real course layouts.
The "Academy Club" provides:
Indoor all weather training facility
Agility and Obedience Equipment on premises
24/7 facility access
The Academy Club offers handlers and their dogs a place to practice. It is set up for advanced obedience and agility handlers and their dogs. You must presently be in advanced classes at the Academy. Click Here to sign up for a Club Membership with our online Class / Club Registration
Our store, open when there are classes, provides show and competition dog equipment and supplies.
Some of our specialty items include:
Balance Harnesses - The Top Rated Harness for Your Dog

Proper Fitting of the Balance Harness is very imporant, and we'll fit your dog to the perfect harness
Five Sizes Available: XS thru L
Easy to put on over the head - colored strap goes on top
Six adjustment points, no shoulder restriction. Works well to reduce pulling, with almost no slippage or gapping.

Dog Coats
Guardian Gear Crates
Dog Seat Belts
Collars and Leads for Performance Dogs
Treats for Performance Dogs
Motivational Dog Games

Do to the OVERWHELMING Positive Response we are forced to stop taking anymore evaluations at this time. If you have already signed up or called YOU ARE STILL ON THE WAITLIST. The waitlist has grown to 2-3 months back log. We have only 4 evaluation/lesson slots available per week. The rest of our slots are filled with existing clientele of independent swimmers. Please check back in the summer months to see if we have more slots available. Thank you for your interest and support.
The purpose of the "Swimming Paws" Swim Center is to provide a state of the art year round swimming facility for our dogs. The pool is 25' x 15', it is solar heated (with back up heat when there is no sun). The decking and stairs are safe slip proof materials. "Swimming Paws" provides scheduled evaluation of your dog's water abilities, swimming lessons if needed, and swim time.

It is located within the Academy of Dog Training & Agility at 89B Albe Drive, Newark, DE 19702.

Please go to "SWIMMING PAWS" to find out all about this new service for your dogs.
Brags from our Students and Members
"Hi Anna and Don-I wanted to give you an update on my dogs (and brag about them a little)-Rion my Chocolate Lab compleated his UD title at Salisbury Kennel Club with a 191-first place in UA-his other passes were at WKC 185 second place and 191 1/2 first place in UA. Hanna my wonderful little golden girl earned her Novice title at Salisbury KC with a 196 1/2 second place and a 195 first place in NB and at WKC a 195 1/2 third place and a195 first place in NB.I also wanted to thank you for making such a great facility available for training"
Dora Heffelfinger, dndnds@verizon.net
---
What a day!!!! Double Q with my girl Peca!!!!! 1st place in JWW, 1st place Standard. This was at Dream Park.
Jeanne Darling Gallagher
Canine Sports Massage Therapy at the Academy
The Academy of Dog Training and Agility is pleased to now offer the benefits of Sports Massage Therapy to our canine athletes and partners. (You do not need to be a club member to take advantage of this service.)

Sports massage therapy is used universally as a pre-event, post-event, and maintenance therapy for animal athletes involved in all types of competition. Because this therapy has been found useful in relieving and modifying the symptoms of a variety of ailments and conditions, its benefits also extend to healing, aging, arthritic, and obese dogs.
Click here to learn about canine message therapy sessions and how to make an appointment.
---
Click Here to learn about the Special Swimming Offer for PAWS for People teams. We want to encourage all to take advantage of the superior conditioning and enjoyment that your dog will get from swimming.
How to Join the Academy Club
The best teams develop when aided by training and practice.
The "Academy Club" provides:
Indoor all weather training facility

Agility and Obedience Equipment on premises

24/7 facility access
Of course there is no member access to the building during formal classes.
The Academy Club offers handlers and their dogs a place to practice. It is set up for advanced obedience and agility handlers and their dogs. You must presently be in advanced classes at the Academy. The Academy Club is $200.00 for a year's membership.
Click Here to sign up for a Club Membership with our online Class / Club Registration